13 Apr

Education credits remain elusive to many residential school survivors

By Ahmed Najdat and Peter Mothe

When the Thomas sisters were growing up, World War II was raging in Europe and electricity had not yet made its way to North Vancouver.

But Jackie and Bonnie—two of the younger Thomas sisters—still have fond memories of this time. They spent countless hours outside, playing under the watchful eye of Lorna, one of their older sisters.

That is until RCMP officers started showing up at their house, and one-by-one took the sisters to St. Paul's Residential School.

Nearly 70 years later, back home at the Tsleil-Waututh Nation's reserve in North Vancouver, three of the Thomas sisters—Jackie Leech, Bonnie Angel and Lorna Ormandy—found out about the education credits program.

The program was launched in early 2014, and aims to compensate residential school survivors with education credits worth $3,000.

Then and there, the sisters decided to embark on one more journey together: learning how to use Facebook.

Personal education credits

The education credits program is funded with money left over from the Indian Residential Schools Settlement Agreement signed in 2007. Survivors can use the credits to pay for cultural or formal educational classes, and can also transfer them to family members.

Since its launch, the program has received widespread criticism, with some survivors calling it restrictive and confusing.

But the Thomas sisters were eager to apply, choosing to pool their credits to take a class together.

"I've always loved education… We're put here on this earth to learn," said Bonnie Angel, 74, who finished high school in her fifties and studied to become a professional caretaker in her sixties.

They set their sights on a computer course, hoping they'd learn how to use Google as a research tool, as well as Skype and Facebook to communicate with their children and grandchildren.

"You can use computers to check up on things, like stuff for the garden," said Jackie Leech, 76.

The long wait

Despite having applied for the program in July of last year, the sisters have yet to receive the money they need to start their computer class.

And they aren't the only ones.

According to Aboriginal Affairs and Northern Development Canada (AANDC), as of mid-March, nearly two-thirds of the 29,964 survivors who applied to receive the credits were still waiting to start their programs, which must be completed by August 2015.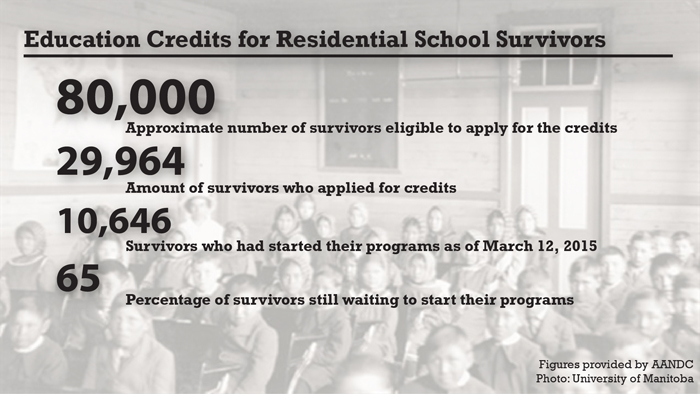 The delays mean that the sisters will have less time to take their computer course, said Kari Chambers, the elder's coordinator at the Tsleil-Waututh Nation.
Chambers has been helping the Thomas sisters and other seniors from Tsleil-Waututh throughout the application process, which she describes as "tedious and long."
"It's very daunting for them to go through another process that's so complicated in order to get something that is owed to them," she said.
The process of applying for the credits was so complicated that the Supreme Court of B.C. ordered that the deadlines be extended. The new deadline has allowed more survivors to apply for the credits, but has also affected processing times.
To apply for their computer class, all three sisters submitted multiple forms to Crawford Class Action Services, the court-appointed company that oversees the distribution of personal credits.
One of the sisters misplaced a signature on one of their many forms, but it took months for them to be notified of this error. This small clerical error led to a waiting period that continues to drag on.
"It's taking so long. Maybe I won't have a memory by the time we start," said Leech, who says she's called the survivors' hotline so many times that she was eventually told to stop calling.
"Good job we don't hold our breath. We'd be blue instead of brown," added Angel, trying to laugh at the situation.
An unfortunate prediction
Chambers remembers the sisters joking during the long months in which they heard nothing about their application, saying, "I hope we get it before we're dead."
But their joke turned into a tragic premonition.
Last November, while they were still waiting to hear confirmation about their computer class, 82-year-old Lorna, the eldest of the three, passed away.
Lorna's death shattered the sisters' dream of taking the class together.
"I don't think there's been enough sensitivity given to the age factor," said Chambers. "I would put money on the fact that she is just one of many."
Rising above adversity
The extended deadlines and the influx of new applications "have resulted in slower processing of redemption forms and, therefore, issuance of cheques," explained Michelle Perron from the AANDC in an email.
But for Kari Chambers, the delays are another example of the paternalistic treatment of indigenous people by the Canadian government.
"It is a message that you have to do this by our system, by our rules, and not the way that you would like to do it," she said.
The Thomas sisters have been overcoming this type of paternalism since they were 6-years-old, and were taken away from their parents and forced into residential school.
But even in residential school, the sisters found ways to comfort each other.
"When I got there I just cried all the time. When they'd turn the lights out, I'd go get in bed with my sister," Angel recalls.
The sisters are determined to take their computer class and are eagerly waiting to start.
In the meantime, they continue mirroring the lessons their older sister Lorna embodied.
"She never lost her ability to laugh, she always wanted to learn, and she was a force to be reckoned with," Angel said.