10 Apr

All-aboriginal seniors home in B.C. highlights the need for more space

By Jonathon Hernandez and Ricardo Khayatte

When Bernice Williams wheels herself through the halls of her home, she passes by a framed obituary of her uncle, just one of many memoirs of the Sto:lo Nation's most influential elders that hang on the walls.

After suffering years of domestic abuse and living on the streets of Chilliwack without a home, Williams was able to find shelter in the Sto:lo Nation Elders Lodge. Located in Chilliwack, it is the only assisted-living facility for aboriginal seniors in British Columbia.

"I'm in a good place. I'll never be homeless; I'll never be hungry again. No beatings, no more black eyes, no more fat lips, no more broken bones – unless I fall down or something," says Williams.

Providing assisted care

Holding 15 one-bedroom units, the Sto:lo Elders Lodge is only available to aboriginal seniors. The lodge was constructed in 2007 with the aim of creating an assisted care space for aboriginal elders that maintained their cultural heritage. Built under combined efforts of Fraser Health and the Sto:lo Nation, the facility cost $5 million in provincial funding alongside an additional $600,000 and tract of land provided by the first nation.

Elders are required to pay identical prices to senior's homes across B.C. (70% of their after-tax income) and are provided with rental accommodation, daily meals and personal care (including grooming and bathing). But what makes the venue different is its connection to Sto:lo history.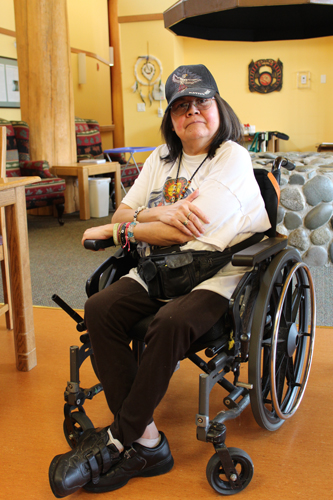 The Elders Lodge is designed like a traditional longhouse, supported inside by large timber logs. The hallways are lined with traditional Coast Salish artwork that tie the building to its cultural roots. Having drawn members from across B.C., the lodge has been of interest for other first nations that hope to replicate the facility.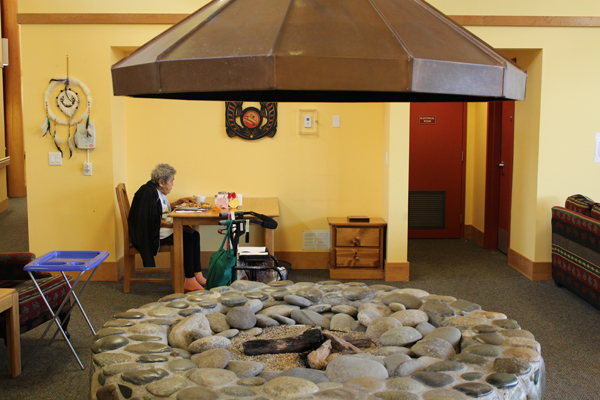 The need for more space
"I gave a tour to some people from Bella Coola and Prince George, and they said 'we have people sitting in their homes or in extended care facilities in hospitals and we'd like to build something like this'," says Dennis Grewal, nurse at the Sto:lo Elders Lodge.
While there are other culturally sensitive seniors homes in B.C., the unique Sto:lo lodge is strictly for aboriginal elders. The lodge currently accepts First Nations seniors from across the Fraser Valley, but according the facility's managers, there's a waitlist that's expected to get longer.
According to Stats Can, by 2017, the number of aboriginal seniors in Canada will grow more than two-fold. And the numbers have caught the attention of the lodge's staff.
"We're hoping one day that maybe Sto:lo can build another 10 or 15 beds or a full facility with 24 hour care," added Grewal, noting that an empty field in front of the land could be utilized for expansion.
Grewal and his colleagues have seen the loss of many elders to extended care facilities. Each elder's health is regularly assessed to determine whether or not they can still live independently. If they can't, they are sent to a mainstream 24-hour care facility, away from the reserve.
"The fundamental desire is to have facilities in the home communities," says Dr. Bonita Beatty, professor in the Department of Aboriginal Studies at the University of Saskatchewan. Beatty believes that there needs to be more on-reserve health care facilities for aboriginal seniors in order to help keep elders within their communities.
"The need for 24-hour care pushes [elders] into the cities," added Beatty, emphasizing that the move will often fragment aboriginal seniors from their families.
Bringing elders together
The on-reserve Sto:lo Elders Lodge was built to keep community, and family, intact.
Four years ago, when Bernice was admitted into the Sto:lo Elders Lodge, it wasn't long before she recognized that she had family living under the same roof.
"Who's that lady over there. I know that I know her… so I wheeled on over to her and started talking to her. She's a Williams from Chehalis. I'm a Williams from Scoulets, and her husband is my father's first cousin so we're a family all around," says Williams.
Bernice found her cousin, Mary Emery, in the lodge and has been at her side ever since – she even brings her tea every morning. Bernice makes it a priority to tend to Mary, who is over 20 years her elder.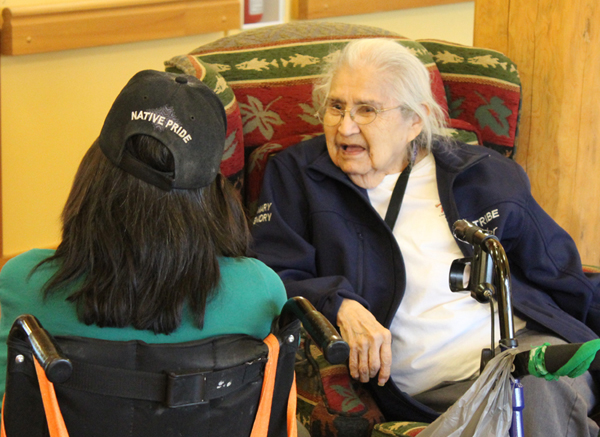 "I came from a big family," said Emery, who spent her life in Yale, B.C. "There were 11 of us and I'm the only one left. I've been here for five years. When my husband and my son died, I was by myself. I lost my people so I came here. I didn't want to live by myself."
Living alongside Mary, Bernice is happy to call the Sto:lo Elders Lodge home, especially since she gets to continue living in her hometown while receiving the assisted care that she needs.
What makes an elder?
The Sto:lo Elders Lodge currently stands as an archetype for an aging aboriginal population, even if they're not sure why they are 'elders' in the first place.
"This is Sto:lo Elders Lodge and I don't know what makes me an elder. I don't feel like one – I am one but I don't know what for," says Williams.
Elders' social housing in B.C.
The Sto:lo Elders Lodge is the only assisted care facility that caters exclusively to aboriginal seniors. Below are three examples of facilities that provide alternative care solutions to aboriginals in B.C.
Read more:
1. Tsawaayuus (Rainbow Gardens) – Port Alberni
– Rainbow Gardens is a multi-level care facility under the direction of the Westcoast Native Health Care Society.
– There are 10 assisted living apartments.
– Housing is all-aboriginal and assists both seniors and younger individuals with disabilities.
– Funding received from provincial government
2. Hilltop House – Squamish
– Hilltop House opened in 1984 and provides complex care along with private residence.
– The facility is not exclusive to aboriginal people; however, its population is multicultural.
– Holds 71 complex-care beds
– Funded by Provincial Government and Squamish Nation
3. Ts'i'ts'uwatul'lelum Assisted Living – Duncan
– Ts'i'ts'uwatul'lelum Assisted Living facility is located in Duncan, B.C.
– Currently undergoing construction to provide 50 self-contained apartment style units
– The facility provides culturally sensitive housing and services to aboriginal and non-aboriginal seniors and people with disabilities.
– Funded by federal and provincial governments and Cowichan Tribes