By: Pauline Holdsworth + Emilie Riva
Bryce Williams glances down at the boy drawing a Coast Salish eagle design next to him.
"That's awesome," he tells Damien Hearl, a 7th-grade member of Tsawwassen First Nation. Hearl smiles and turns back to the drawing he's been working on intensely for the last hour.
Williams, who trained as a carver in Haida Gwaii, is teaching Coast Salish art to eight boys in his community, which sits roughly thirty kilometres south of downtown Vancouver. They've known him for years – as a neighbor, then a babysitter, then a friend.
Now, the young artist is their chief.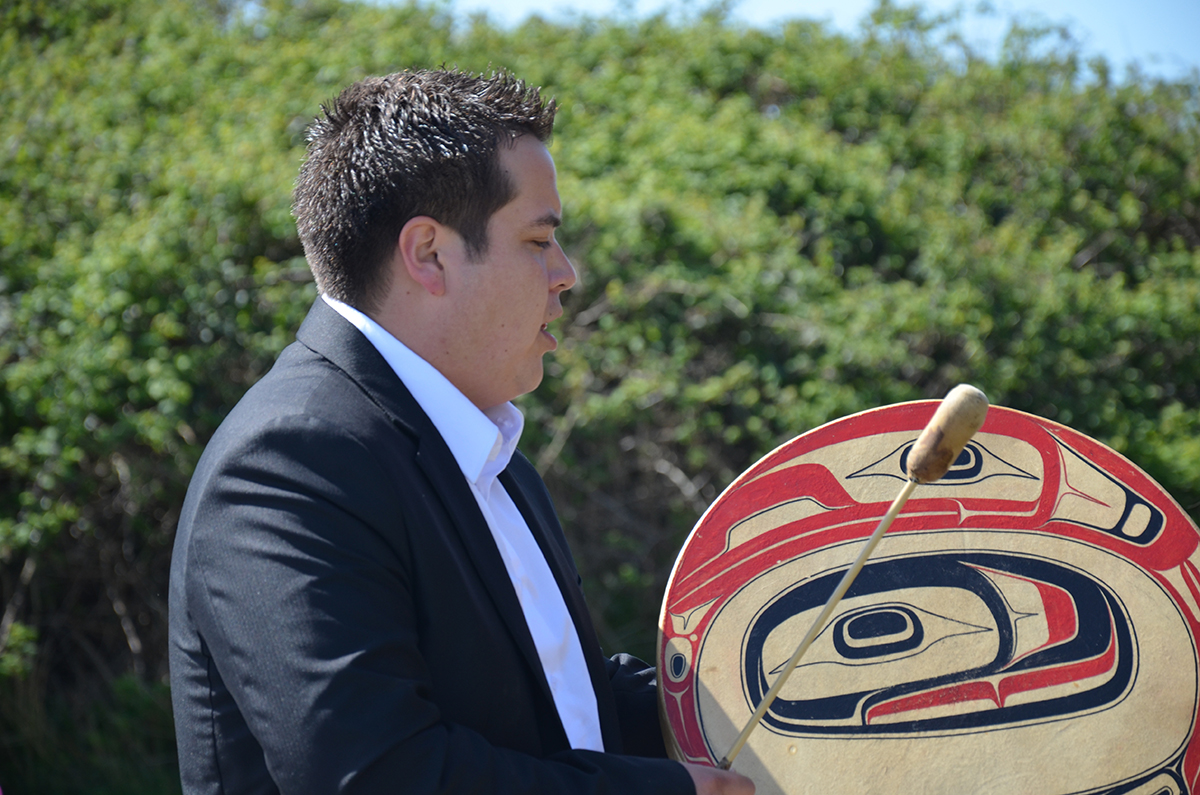 At 24, Williams is one of the youngest chiefs in B.C. He's juggling an up-market housing development and the construction of the second-largest mall in Canada with a plan to create a new generation of Tsawwassen artists.
"There might be some skeptics or people that think I can't handle the job at this young age, but I think I've been showing and proving to people that I'm able and capable of serving in this position," he says.
Balancing act
Although his training is in art, not business, he's earned the respect of many of the people he negotiates with in surrounding communities.
"He's a very young man carrying a lot of responsibility, and he's certainly got the support of his community behind him," says Ian Tate from the Delta Chamber of Commerce. "I find him to be a very approachable, very reasoned leader of his community."
The soft-spoken chief chooses his words carefully and often refers to his notes when talking about his Nation's economic future, but lights up when he talks about culture. Borrowing a phrase from his mentor, Haida carver Christian White, Williams says he wants to create "culture-bearers" – a new generation of singers, carvers, weavers, and dancers.
When asked about how he balances culture and business, Williams pauses.
"Obviously it's good to keep the culture alive, but you can't host those programs and services when you don't have money to move those things forward, so they're both very important," he says.
In the small, close-knit Nation, which has a population of 328, those two forces are never far apart.
It's a three minute walk from the Administration Office, where Williams shows up to work every day wearing the cedar hat his mother made him, to the presentation centre for Tsawwassen Shores, a new luxury housing development where prices start at half a million dollars.
The TFN treaty went into effect on April 3, 2009, making it the first urban self-governing Nation in the province. It opened the floodgates for a new era of development – like the mall, a destination retail centre that will be home to major brands like Walmart and Rona when it opens in 2016.
But when it came time for the 2012 election – in which Williams narrowly defeated long-time chief Kim Baird – many TFN members were concerned that their nation's economic acceleration would outpace cultural services.
Steven Stark, who's now a member of the legislature, says he'd heard previous political leaders talk about the importance of culture without following through.
"In the same breath I would hear them say that [those things are] not as important as trying to develop," he says.
That's where Williams came in. Though he's a strong supporter of the development projects Baird put into motion, his election platform centered on revitalizing culture. For many TFN members, his cultural ties were an important deciding factor.
"You could talk white language all day long and sound very sophisticated, but if you don't have that native culture behind you and talk with the native tongue, you're not going to get very far," says Stark.
Support behind the scenes
Williams acknowledges that there have been "some difficulties here and there, and maybe a bit of a learning curve." But he draws on the support and expertise of his executive council – which includes former chief Tony Jacobs – his legislature, and his staff.
"We have a very unique team standing behind Bryce," says Stark. "He is young, but we knew that when we elected him. A lot of us talked about it, that Bryce isn't the only one that makes all the decisions."
The 24-year-old chief says he thinks a leader is someone who can be the "voice of the people," but he tends to keep his thoughts to himself. At his nation's Legislative Assembly, he sits silently through a tense debate.
Stark remembers a different style when Williams' father Remo sat on the legislature. "Remo, he's a very smart guy, very strong voice," says Stark. "And Bryce is [more] conservative. He watches. He's quieter, but he uses his words wisely. He has that open ear."
Leading the way
Williams says he relies on the teachings of his ancestors – who include famous Haida artist Charles Edenshaw and former Tsawwassen chief Russell Williams – to guide him in his artistic and political lives.
He's also becoming a guiding force for younger Tsawwassen members.
Peggy McCleod, who facilitates the weekly book-and-drawing club Williams runs with another senior administrator, says it's unprecedented for leaders to have this much contact with young people.
"Having that time the way they do every week, with one of the two leaders, I think really goes a long way to speak to how valued they are," she says.
His art students look forward to his class. They'd rather learn about native culture than math, and now they have a new arsenal of Coast Salish designs to add to their Futurama and Spiderman doodles during class.
"Part of being a Haida artist or a Coast Salish artist is being willing to pass on those traditions," says Williams. "It uplifts me to be able to pass along some of that knowledge."
It's even opened up new career possibilities for some of his students.
William Genge, who has the same round face and broad grin as the chief, says he'd like to be an artist.
When asked if he'd run for chief, he pauses, then grins.
"Chief? Yeah."
An evening at the Tsawwassen Legislative Assembly
The evening starts with a fresh meal: salad, smoked salmon and breaded halibut.
At 6:30 pm, the legislators get in line. They're accompanied by drumming and song as they walk up to the medicine mantle, place the feather they carry, and go to their appointed seat.
Elder Ellen opens the ceremony with a prayer: "In the name of the Father, and the Son…" her calm voice giving the tone for tonight's debate.
It's a stark contrast to the question period in Ottawa. There is no banging on the desks, no screaming "Mr. Speaker…" Instead, a respectful silence envelopes the Legislators.
To speak, legislators raise their hand and wait for the runner – a young TFN member – to bring them the feather that gives them the right to speak.
The legislators religiously follow this protocol throughout the night.
The assembly adopts the budget for the upcoming year, and legislator Steven Stark raises the question of affordable housing on Tsawwassen lands. During an emotional plea, he reminds his colleagues that he has been waiting for the past five years to build his house.
Stark urges his fellow legislators to pass a resolution to create a housing community, and the legislature decides to discuss it in detail in two days' time, at the next sitting of the legislature.
It's 9:00 pm, and all the subjects have been discussed.
The elder Ellen comes up and says, "In the name of the Father and the Son…"
She receives a blanket as a gift, and the sound of drums leads the Legislators as they walk towards the exit.